négocier des contextes
La première année du Master en Design mode et accessoires confronte les étudiant·e·x·s à différents contextes – du studio de design au champ de l'image. Léa Peckre, ancienne responsable du département mode, a conçu le projet qui structure le premier semestre comme un pont entre l'école et les réalités de l'industrie. Supervisé cette année par Cosima Gadient et Christa Bösch du label berlinois Ottolinger, le studio s'est articulé autour d'une collaboration fictive entre la marque de sport Nike et le créateur de mode américain Tom Ford. Avec deux esthétiques très définies et un sujet surexploité en guise d'inspiration (Marie Antoinette !), Bösch et Gadient, dans le rôle de directrices artistiques, ont mis la classe au défi de proposer des idées à la fois expérimentales et commercialement viables.
negotiating contexts
The first year of the Masters in Fashion and Accessory Design is all about negotiating contexts – from the design studio to the image. Léa Peckre, former head of the fashion department, conceived the studio project that structures the first semester as a bridge between the school context and the industry's realities. Helmed this year by Berlin-based label Ottolinger's Cosima Gadient and Christa Bösch, the studio imagined a collaboration between sportswear brand Nike and American fashion designer Tom Ford. With two very defined aesthetics and an overexploited topic to start from (Marie-Antoinette!), Gadient and Bösch challenged students to come up with ideas that were both experimental and commercially viable.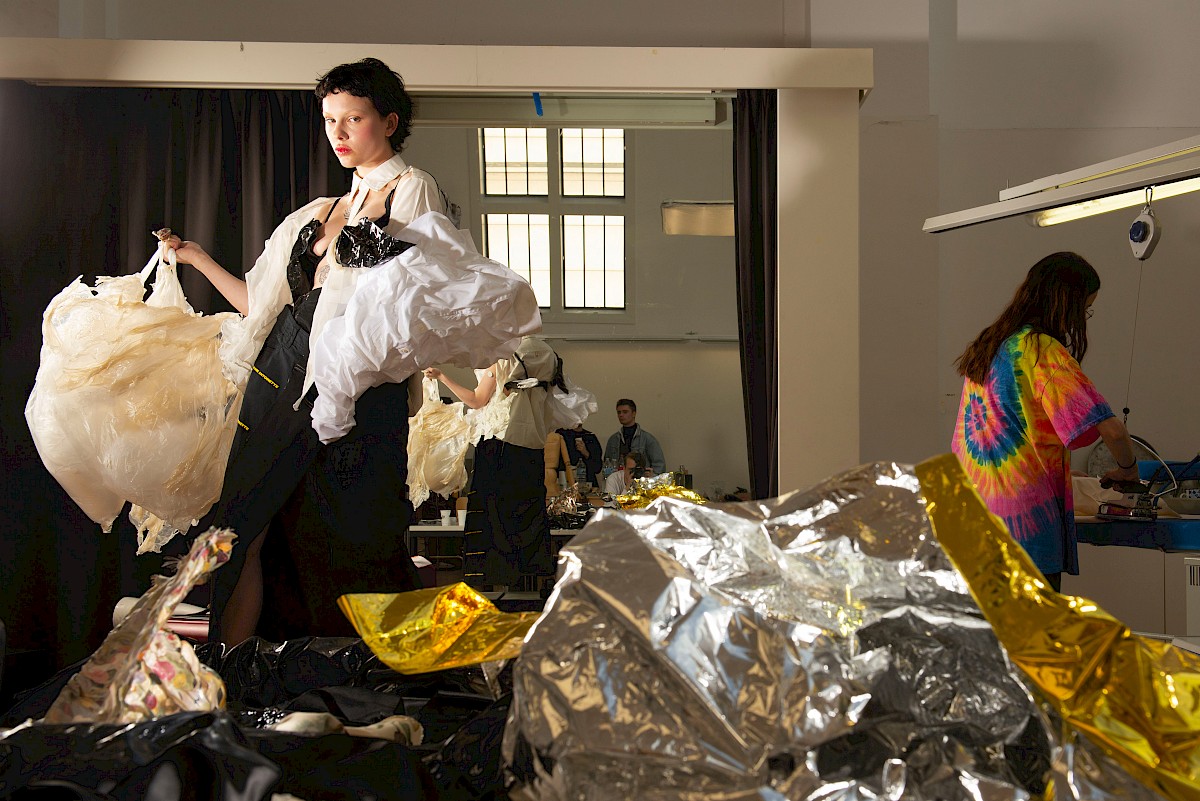 Pour l'atelier du second semestre, Emilie Meldem, nouvellement nommée en MA1, et Aude Fellay, coordinatrice du programme théorique du Master, ont demandé aux étudiant·e·x·s d'exploiter l'image en mouvement pour concevoir leur collection. Le médium du film leur a ainsi permis de documenter leur processus créatif, d'imiter des effets de matières ou encore de suggérer des volumes en jouant sur les propriétés de l'image. Pour la réalisation de la vidéo et la recherche iconographique, les étudiant·e·x·s ont été soutenu·e·x·s par l'artiste et vidéaste Sami Benhadj ainsi que par les directrices artistiques Florine Bonaventure et Florence Tétier.
Emilie Meldem, newly appointed MA1 tutor, and Aude Fellay, theory tutor on the MA, asked students to use moving images to show the result of their semester's work. Film meant processes could be documented, materials and volumes faked. On film and visual research, students were helped by the artist and filmmaker Sami Benhadj and art directors Florine Bonaventure and Florence Tétier.
À mi-parcours du projet, les designers britanniques Luke Brooks et James Theseus Buck de Rottingdean Bazaar ont suivi les étudiant·x·e·s dans la production des premiers clips, testant par l'image leurs premières idées de films, de vêtements et d'accessoires. Des rendez-vous hebdomadaires ont permis des échanges sur leurs travaux avec des intervenant·e·x·s aux spécialisations diverses – de la théorie au design de bijoux.
Midway through the semester, British designers Luke Brooks and James Theseus Bucks from Rottingdean Bazaar made the class test design and film concepts. The students also met weekly with tutors with various specializations – from theory to jewellery design – to discuss their work.
À l'exception d'un workshop d'expérimentation textile dirigé par la designer Vanessa Schindler, la classe a passé l'intégralité du semestre à la maison. Les films ont été réalisés avec les moyens limités à disposition. Certain·e·x·s étudiant·e·x·s ont demandé aux membres de leur famille d'être modèle ; d'autres ont exploré le dessin et l'animation, s'aidant de logiciels de jeux vidéo ; d'autres encore ont modelé des vêtements sur des arbres en forêt.
With the exception of a textile workshop led by designer Vanessa Schindler, students spent the entire second semester at home. The films were made with the limited means at their disposal. Some students had their family members stand in as models, others explored drawing and animations using video game software to create 3D silhouettes, others still had forest trees replace bodies.
Penser par la mode : c'est l'un des enjeux de l'introduction théorique du premier semestre qui réunit fashion studies, sociologie et théorie des médias. Au second semestre, les étudiant·e·x·s ont cartographié les débats secouant l'industrie avant de se pencher sur leur sujet de mémoire. C'est dans ce cadre que certain·e·x·s étudiant·e·x·s ont empoigné des questions de société : le phénomène du blackfishing sur les réseaux sociaux ou le statut de l'amour dans la société contemporaine, mettant pour un temps la mode à distance.
Thinking through fashion. This is the unifying theme of the theory course led by Aude Fellay, which brings together fashion studies, sociology and media theory. During the second semester, students mapped and discussed various industry issues. Outlining the subjects of their MA thesis, some students engaged with broader societal questions: the ubiquity of blackfishing on social media or the status of love in contemporary society, momentarily putting fashion at arm's length.
étudiant·e·x·s
students
Eliott Biant
Mélissa Café
Mellie Chartres
Camille Derniaux
Hortense Druart
Sophie Fellay
Martin Guillet
Celeste Hay
Julia Hernandez Figueroa
Gabrielle Huguenot
Manon Melot
Bérénice Noël
Quentin Poudoulec
Sandrine Joy Praz
Victor Salinier
Lora Sonney
Florian Henri Alexandre Wicki
professeur·e·x·s et intervenant·e·x·s
professors and guests tutors
Sami Benhadj
Jonas Berthod
Florine Bonaventure
Christa Bösch
Luke Brooks
James Theseus Buck
Stéphanie d'Heygere
Cyril de Froment
Marietta Eugster
Pauline Famy
Aude Fellay
Elizabeth Fischer
Cosima Gadient
Joëlle Gagliardini
Sophie Kurkdjian
Emilie Meldem
Eelko Moorer
Léa Peckre
Stéphanie Romiguier
Christine Rösch
Fabrice Schaefer
Sabine Schechinger
Reto Schmidt
Florence Tétier
Tineke van der Meer
Peter Wiesmann

assistante
Camille Bühler