C'est un sentiment d'urgence, amplifié par la pandémie, qui a alimenté les réflexions autour de la mode des étudiant·e·x·s et des professeur·e·x·s au cours de l'année académique 2019/2020. Parmi les préoccupations majeures, figurent évidemment l'impact de son industrie sur l'environnement ainsi que les conséquences de sa vitesse vertigineuse sur le processus de création. Lancé au moment de la rentrée, le cycle de conférences à l'intention des étudiant·e·x·s, nos « Mode Conversations » devenues ensuite des « Conférences Confinement », a nourri nos débats. Au cours de ces échanges, les intervenant·e·x·s du programme y ont parlé ouvertement de leurs expériences, évoquant les difficultés et les succès rencontrés au sein du milieu, et esquissant les transformations en cours.
It is with a sense of urgency, amplified by the pandemic, that tutors and students questioned the state of the fashion industry over the course of the 2019/2020 academic year. Of primary concern: fashion's impact on the environment and the consequences of its dizzying speed on the creative process. The monthly conferences launched back in September 2019, our "Mode Conversations" which later became "Conférences Confinement", fuelled many of our debates on these issues. During these, guest tutors spoke to students about the difficulties and successes they had encountered in the industry and reflected on the changes underway.
Sur les nombreuses questions pressantes touchant notre industrie comme la société dans son ensemble, les étudiant·e·x·s ont montré la voie. C'est une mode plus inclusive et plus responsable qui émerge de leurs travaux et des demandes formulées à l'intention de l'institution pédagogique. Pour les soutenir, l'équipe a mobilisé toute son énergie, redoublant d'efforts au moment de la première vague. Les hiérarchies se sont d'ailleurs trouvées quelque peu brouillées, tout le monde s'étant vu propulsé, par le biais de l'écran, dans l'espace privé des autres. Face au caractère inédit de la crise, les étudiant·e·x·s et le corps enseignant ont dû composer ensemble, avec les moyens du bord. La mise en place d'une gouvernance collégiale du département au mois de septembre 2019 a favorisé la collaboration. Marquant une prise de distance avec les modèles d'organisation verticale avec laquelle la mode est si familière, elle a permis de nombreuses discussions de fond sur des enjeux pédagogiques. Sans surprise, l'expérience de l'enseignement de la mode à distance a généré son lot d'interrogations.
When it comes to addressing the many challenges our industry (and society at large) faces, the students themselves are leading the way. It is a more inclusive and responsible fashion field that emerges from their work and educational requests. The teaching staff mobilised all of its energy to support them, redoubling its efforts when the first wave hit. Traditional hierarchies were somewhat broken in fact. Screens threw everyone into each other's home from March onwards. Faced with a crisis of an unprecedented nature, the tutors and students had to improvise together with the means at hand. The department's collegial governance had helped lay the ground for greater collaboration, marking a step away from the top-down models familiar to those working in the industry. It was also conducive to in-depth discussions on fashion education. Unsurprisingly, the experience of teaching fashion online has raised a whole host of new questions.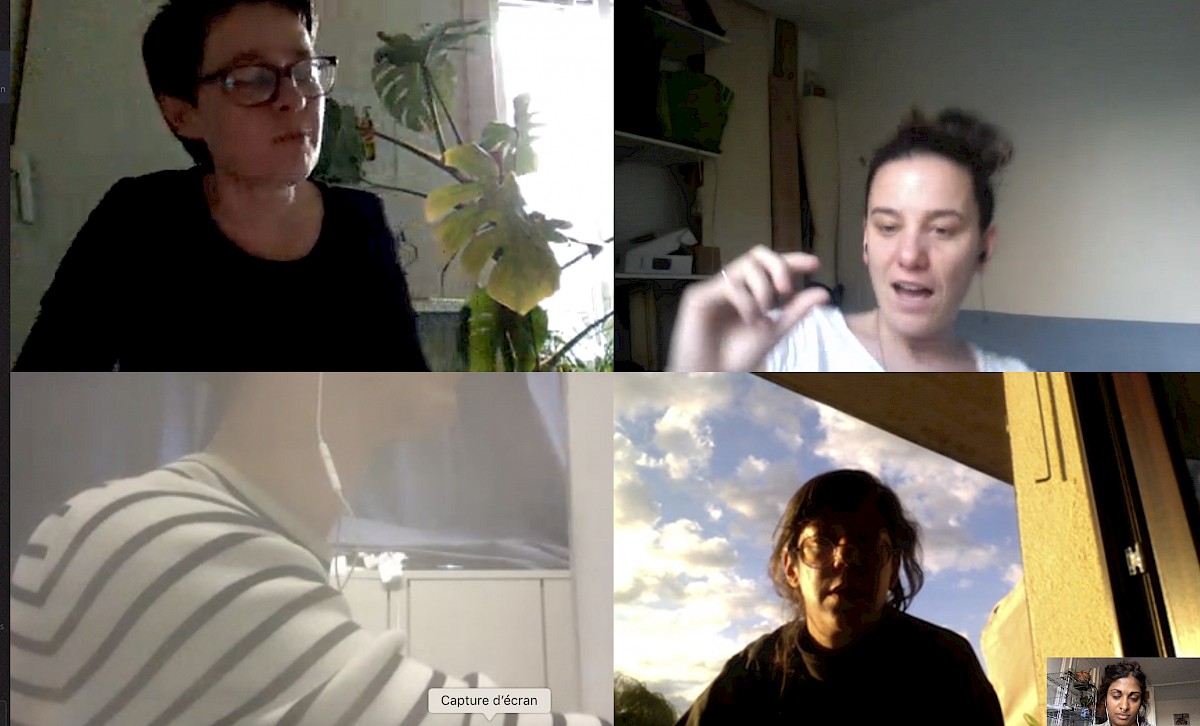 Si des changement profonds semblent s'imposer, ils ne peuvent se réaliser sans une meilleure compréhension de la mode, une industrie complexe, parfois opaque, souvent victime de jugements hâtifs. Bertrand Maréchal, enseignant en design mode, s'y est attelé dans Rechercher La Mode, un ouvrage concluant cinq années de recherche paru en juin 2020. Il y cartographie le paysage contemporain de la mode et les bouleversements qui le traversent, de l'impact de la culture numérique sur les pratiques de la mode à l'évolution de son enseignement. Sur le front de la recherche appliquée, cette année, la designer et enseignante Valentine Ebner a exploré des moyens alternatifs de produire de la maille en hackant des machines à tricoter domestiques. Son objectif : offrir une plus grande autonomie aux labels indépendants (TheKnitGeekResearch). Au regard de la question environnementale notamment, permettre aux designers de se réapproprier leurs moyens de production n'a jamais paru si crucial.
The need for meaningful transformations calls for a better understanding of the fashion system, particularly in light of the opaqueness that surrounds many of its aspects and the sometimes all-too-easy criticism of it. The publication of fashion design tutor Bertrand Maréchal, Rechercher la Mode (June 2020), concludes five years of research and works precisely towards this goal by mapping contemporary fashion and the changes it has undergone, from the impact of digital culture to the evolution of fashion education. On the applied front this year, designer and tutor Valentine Ebner has explored alternative ways of producing knit by hacking domestic knitting machines (TheKnitGeekResearch). Her aim: to afford greater autonomy to small, independent labels. Given the imperative to act on fashion's ecological footprint, allowing designers to retrieve a sense of control over their means of production has never felt so crucial.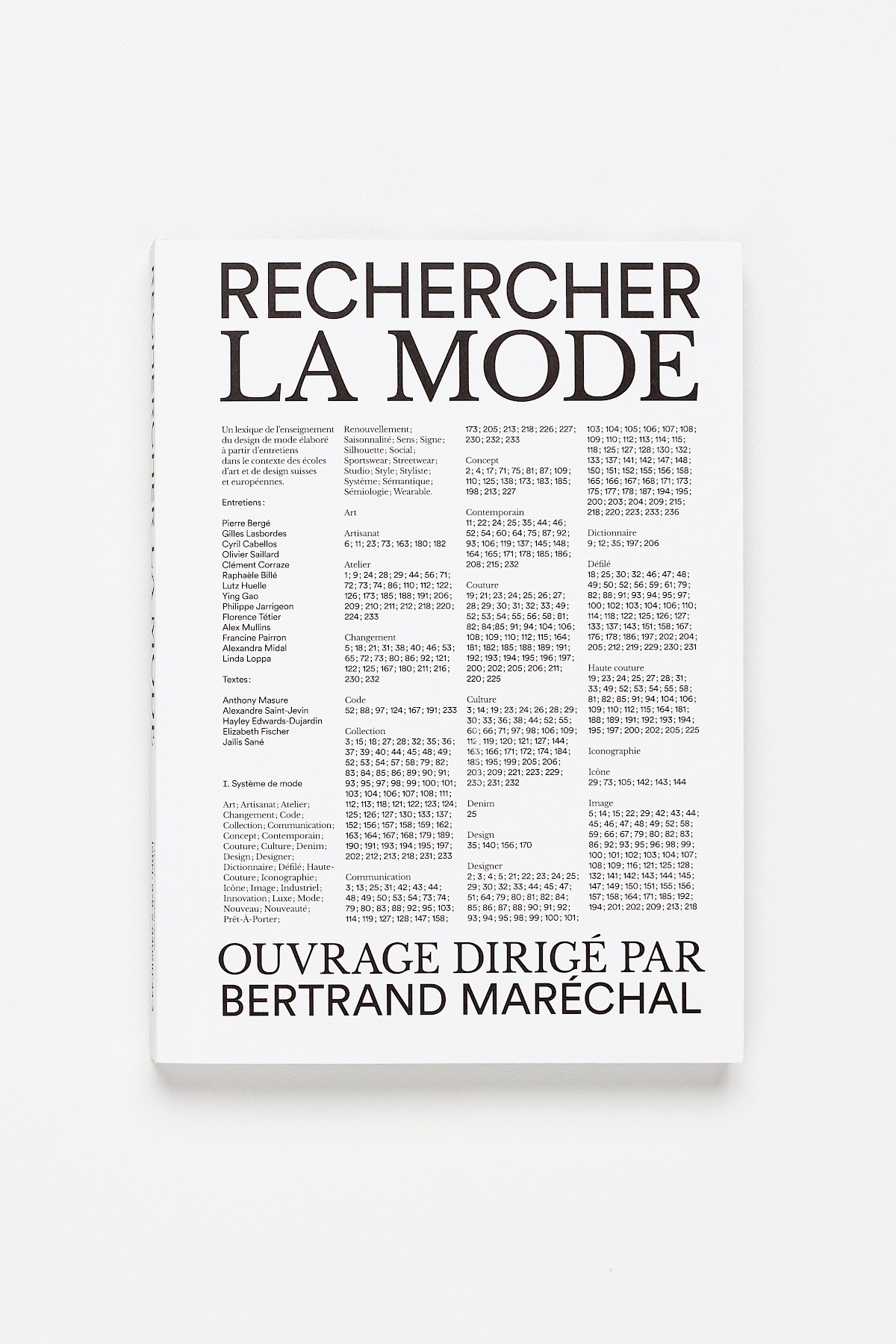 Pour continuer de faire vivre la mode, les étudiant·e·x·s ont dû surmonter les nombreux obstacles que la pandémie a placé sur leur chemin, à commencer par un accès limité aux infrastructures de l'école. Iels y sont brillamment parvenu·e·x·s. À cet égard, les travaux présentés ici valent plus que des mots.

A nos étudiant·e·x·s ainsi qu'à tout·e·x·s nos collègues, pour votre travail, votre patience et votre résilience — merci.
To keep fashion afloat, students have had to overcome the many challenges the pandemic threw their way, starting with limited access to the school's facilities. They have succeeded brilliantly. In this respect, the work you'll discover here speaks volume.

To our students and colleagues, for your work, patience, and resilience — thank you.